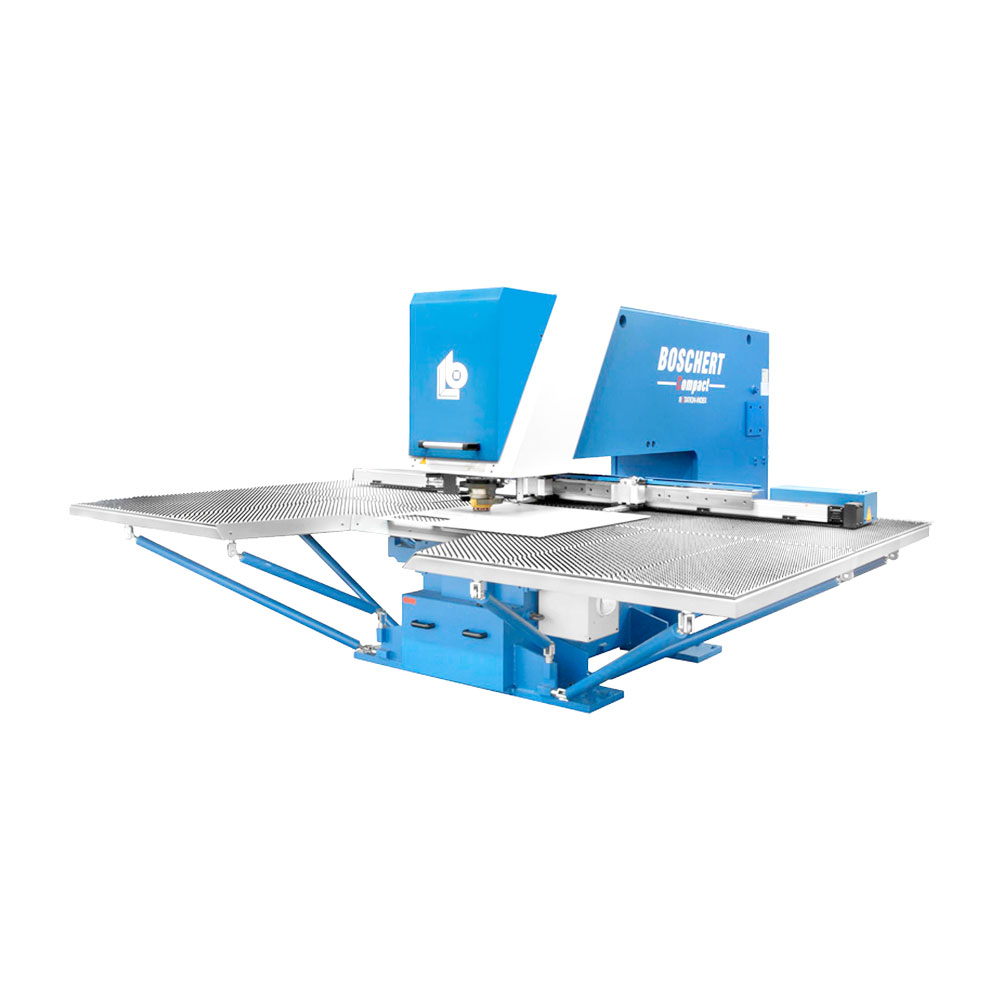 Boschert Punching Machines Compact Index
Product Category:
Stepless 360 degree rotation of all tools up to 105 mm diameter using brushless DC motors and pneumatic indexing of Revotools. The 7-way Revotool was especially constructed for this model. In addition to 6 tools with a diameter of 16 mm each, with a slitting tool of 5 x 30 mm it is possible to punch nearly every contour, allowing complete processing of the sheet without changing tools.
More components of the Compact
An L-sheet is provided with all machines for working very small pieces and pre-bent parts. (Standard)
The automatic tool lubrication serves to increase tool life when nibbling stainless steel (VA) and decreases edge burrs in aluminium. 
Re-positioning up to 10 meters and clamp movement without contacting the sheet. 2 robust clamps for sheets up to 200 kg (expandable to 4 clamps). 
Standard capacity up to 7 mm or 12,7  mm when required. (Standard)
Sandblasted, corrosion resistant surface as standard. Balls in the table for heavier sheets and easy handling, brushes in the table for thin or scratch sensitive sheets are also available.
Vacuum slug removal
CNC/CAD Software to import DXF-Files into machine language, calculated punch time, graphic simulation
Nibbling up to 800 strokes / min with integrated oil cooling
Programmable repositioning of the clamps for faster set up of the machine.
Tapping and drilling attachment for threads M3 up to M12 and smaller drilled holes in thicker sheets.
Marking apparatus for marking parts in 10 different fonts.
Working area
Compact 750 x 2000 1810 x 2080 mm
Compact 1000 x 2000 1060 x 2080 mm
Compact 1250 x 2000 1310 x 2080 mm
Compact 1500 x 3000 1560 x 3080 mm
Performance
Max. sheet thickness 12.7 mm clamp opening / Revotool 6 mm 2
Max. sheet length 9999 mm by repositioning
Max. hydraulic punching power 280 kN (optional 400 kN)
Max. workpiece weight 200 kg
Speeds
Max. positioning speed
X- axes 60 m/min
Max. positioning speed
Y- axes 30 m/min
simultaneous X & Y 67 m/min
Max. strokes standard hydraulic 250 strokes/min
Max. strokes fast hydraulic 800 strokes/min
Toolings
Trumpf tooling system
Max. punching diameter 105 mm or any shape within 105 mm
Revotool 4 / 6 / 7 & 8 stations
Time of tool changing 2-4 sec.
Revotool 15 sec. manual
Axes accuracy during punching process
Positioning difference + - 0,10 mm
Repeatability + - 0,03 mm
Space requirement and weights
Compact 750 x 2000 4050 x 4000 x 2110 mm weight 7400 kg
Compact 1000 x 2000 4050 x 4500 x 2110 mm weight 9200 kg
Compact 1250 x 2000 4050 x 5000 x 2110 mm weight 10500 kg
Electrical Values standard hydr. / fast hydr.
Electrical connecting value 20 / 25 kVA
Hydraulic motor 4,8 / 11 kW
Electrical consumption 2 mm sheet thickness
continuous operation 4,9 / 7,7 kW/h
Electrical consumption 4 mm sheet thickness
continuous operation 5,4 / 8,75 kW/h
Required fuse 3 x 25 A / 3 x 35 A
Pneumatic connecting value min. 4 bar
Hydraulic oil 115 / 160 litre